Tenorshare 4MeKey 4.0.6.7 Keygen + Crack iCloud Unlocker
Tenorshare 4MeKey 4.0.6.7 Crack is the first ever designed technology to solve issues related to removing the activation lock without knowing the password of the Apple ID. It is a professional activation unlocker that can reset the security capabilities. It is beneficial when iPhone is linked to an iCloud account and users forget the login information. It is most appropriate for Apple device users to erase old account credentials.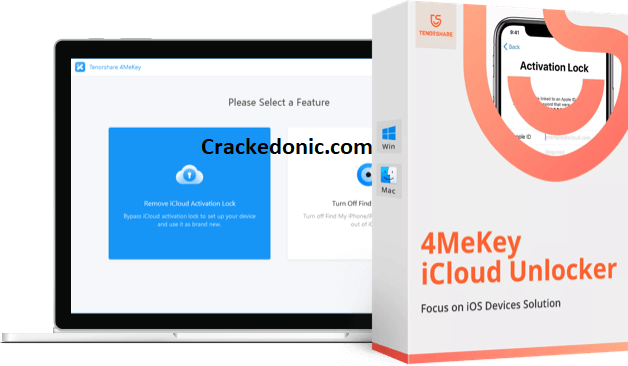 Tenorshare 4MeKey with Crack For Windows & Mac
Tenorshare 4MeKey 4.0.6.7 Registration Code is famous due to its user-friendly interface and compatibility with widnwos and MacOs.It removes neglected passwords for contact ID and even faces Id. After this delete the password along with personal information. Anyone, who is an Apple user and has iPhone 11 or 13, can unlock the lock, personal details, and cloud account and replace them with new settings. It never requires verification. It effectively erases all account information that is stored in the device. This program reduces the price of expensive experts to solve your iPhone issue. Many shopkeepers in the mobile market utilize this program to unlock phones for an impressive profit.
Tenorshare 4MeKey 4.0.6.7 Keygen doesn't require any training, experience, or course education to handle the program. Its working is quite simple and direct. So save the cost of hiring a mobile specialist. This program is safe and ensures the privacy of users. It is a smart testing process that saves the time, effort, and money of users. It offers the world's best cloud unlock service to turn off the activation lock without a password. Sometimes you accidentally flashed your iPhone and could not bypass the activation lock. In that case, this is useful for your issues. Its whole process is very simple and easy.
What is Tenorshare 4MeKey?
It is a world-leading, reliable, and trusted program that works efficiently to remove the cloud activation lock from iPhone devices. After installation, it will jailbreak users' devices and generate new settings.
Tenorshare 4MeKey Crack Features:
Remove iCloud activation lock without password and apple ID.
Compatible with ios devices from iPhone 5S to iPhone x.
Do not need to reboot, restore factory settings or refresh the firmware after successful removal.
Resolve other factory setting issues.
Risk-free program.
Free to sign in using an updated apple ID through App Store or iTunes via wifi.
Connect the device to a computer via a USB cable.
Automatically identifies the device versions.
It is a multilingual program and detects the language of the device.
Automatically update the apple driver.
In addition to the iPad and iPhone, it is suitable for watches.
Related Items:
How can we use it?